#CouchbyCouchwest – we've moved SXSW to the couch!
The corona virus forces many of us to the home office on the sofa. Together with the german.innovation network and Hamburg, we have made a virtue of necessity and are presenting important elements of the planned program and the delegation, which we had actually planned for the SXSW 2020 in Austin, Texas, comfortably from the sofa. So look forward to the premiere of #CouchbyCouchwest!
The last few weeks have not left our society in a state of panic, but in a state of heightened vigilance and, ultimately, concern. Today, schools have been closed and most companies have sent their teams to the home office. This affects our working and private lives. Due to the rapid spread of the corona virus, many events around the world have been cancelled or rescheduled. With South by Southwest (SXSW), which should have taken place this year from March 13th to 23rd in Austin, Texas, the world's top event for the digital and creative industry was also cancelled at short notice.
We had great plans for a special year
This year was supposed to be a very special one. Representatives from Hamburg, Munich, Baden-Württemberg, Bavaria and Hesse, as well as numerous partners from business, culture, the startup scene and science, joined the newly founded german.innovation network to present and connect innovative creatives, founders, companies and scientists at South by Southwest. With a lot of passion, creativity and commitment, the participants put together a varied program to bring the topic of german.innovation as close as possible to the SXSW Crowd in Austin in a five-day event series. We had also planned a program with our partners.
"Better safe than sorry" – The idea of making the best out of the serious situation and sharing some of the content and participants of the german.innovation network with interested parties worldwide quickly came up. If not on site, then thanks to technology, via online video format on the screen at home.
From the couch into the world
Under the motto #couchbycouchwest, the network invites you to digital exchange and networking. What exciting participants would have been in Austin? Which are their stories and plans? What are the trends and current effects of the coronavirus?
Starting today, we'll discuss these and much more online on YouTube, Twitter, Instagram, Facebook and Linkedin.
Just in time for the actual start of the popular festival, there will be a daily dose of exciting content in an SXSW-like way for all those who stayed at home. Unusual times require new formats. As a collaborative network, we hope for lively participation, high-quality exchange, strong networking and further exciting content. Who or what do we have on site?
With pressrelations, all of the contributions to #CouchbyCouchwest are collected here: https://walls.io/CXCW.
Disclaimer
Since 2014, we at Hamburg Startups have been making sure that startups can show that they hav it at SXSW. From March 13th to 22nd, Austin was once again supposed to become the hub of the creative and digital world. Traditionally, the German delegation is one of the strongest. Thanks to the support of our partners from Hamburg Invest, Baden-Württemberg International, Sutor Bank, Vast Forward, german.innovation and Klitschko Ventures, startups received comprehensive support. We reported in advance and planned to do this on location.
New in Austin would have been the first appearance of german.innovation, an open collaborative network. It was created with the aim of strengthening and connecting innovative creatives, founders, companies and scientists. The presence was made possible by the commitment and financial support of the cities of Hamburg and Munich, the federal states of Baden-Württemberg, Bavaria, Hesse and Rhineland-Palatinate, and numerous partners from industry and science.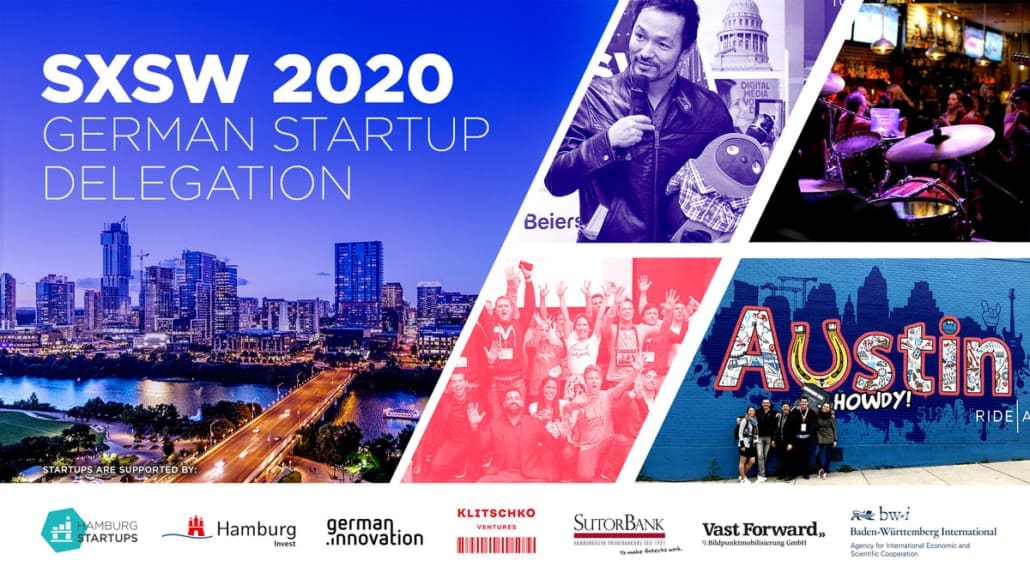 https://en.hamburg-startups.net/wp-content/uploads/2020/03/CXCW-2.jpg
400
600
Mathias Jäger
http://www.hamburg-startups.net/wp-content/uploads/2013/12/hs-logo2_340.png
Mathias Jäger
2020-03-13 18:22:27
2020-03-13 18:22:27
#CouchbyCouchwest – we've moved SXSW to the couch!