FlyingLab – more than just Lufthansa's flying innovation platform
When someone takes a plane, they'll might have some exciting experiences – at least at Lufthansa's FlyingLab. The idea of letting popular major events such as the SXSW festival start on the flight has proved its worth. But the special flights are only one part of an innovation concept, that we would like to present here.
The term "laboratory" usually refers to a workplace, where tests, measurements and experiments are performed. At first this doesn't sound particularly exciting, apart from the experiments perhaps. That's where Lufthansa's FlyingLab would certainly like to be found, although it sees itself as much more than just a single location. Or in this case, as an isolated event on a special flight. Rather, FlyingLab stands for an entire ecosystem of Lufthansa Group-internal innovations, with the related elements "Invent", "Create", "Beta", "Exchange" and "Connect".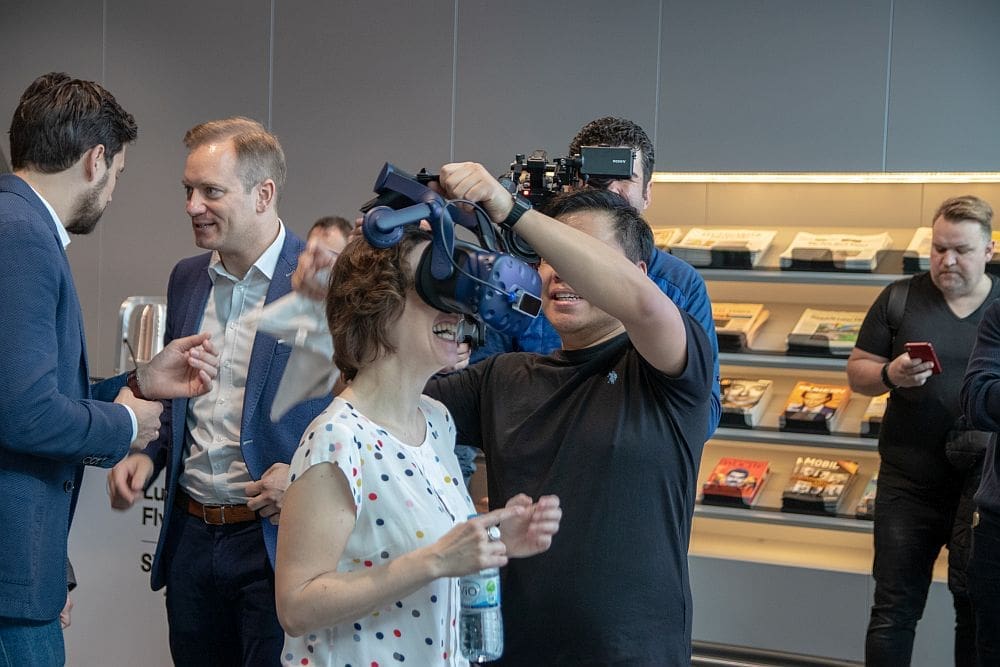 With "Invent" and "Create", the focus is on implementing existing ideas. Using methods such as design thinking or design sprints, the ideas are analyzed for their realizability and potential benefits. Coaches from the FlyingLab team present the corresponding workshops and support the development of prototypes in an flexible setup. In the "Beta" phase, the resulting products and services can then be presented and tested. This happens at events, which take place under the "Exchange" roof. Finally, "Connect" validates the innovations in business and science that resulted from this event.
The FlyingLab takes off since 2016
One of the best known example for events under the label FlyingLab are the special flights. The premiere was in July 2016 on the connection Frankfurt – San José with the topic "Virtual Reality". The return flight was themed "better sleeping", not a bad idea when crossing nine time zones. After these early successes, the journey continued in February 2017 with a trip to New York Fashion Week. This established two constants for the Flying Lab. The flights are always special ones between Germany and the USA (possible in both directions) and they are usually connected to a major event, such as a convention or exhibition.
To be more precise, they offer a kind of opening programme for these major events. Visitors can already enjoy the fun at the airport. There are product tests, lectures, snacks, drinks and much more. The waiting time at the gate flies by and offers the best opportunities for networking. Usually about two hours after take-off, the real party starts on board. An interactive conference with prominent speakers and all that goes with it takes place there. Passengers can follow the action on their smartphone, tablet or laptop via WLAN and ask questions to the experts too. Performance artists and musicians will also ensure, that there will be no boredom on the long-distance flight.
SXSW already starts at Frankfurt Airport
The joint history of Flying Lab and the SXSW Festival in Austin began in 2017 with a special flight to Houston. In 2019, the first non-stop flight to Austin was launched, which has now become a regular connection. Once again this year, passengers can look forward to an attractive programme. Motto of the long since fully booked flight: "All hat. A lot of cattle", a variation of the Texas proverb "All hat. No cattle." Which means "a lot fuss about nothing."So here you can expect the exact opposite.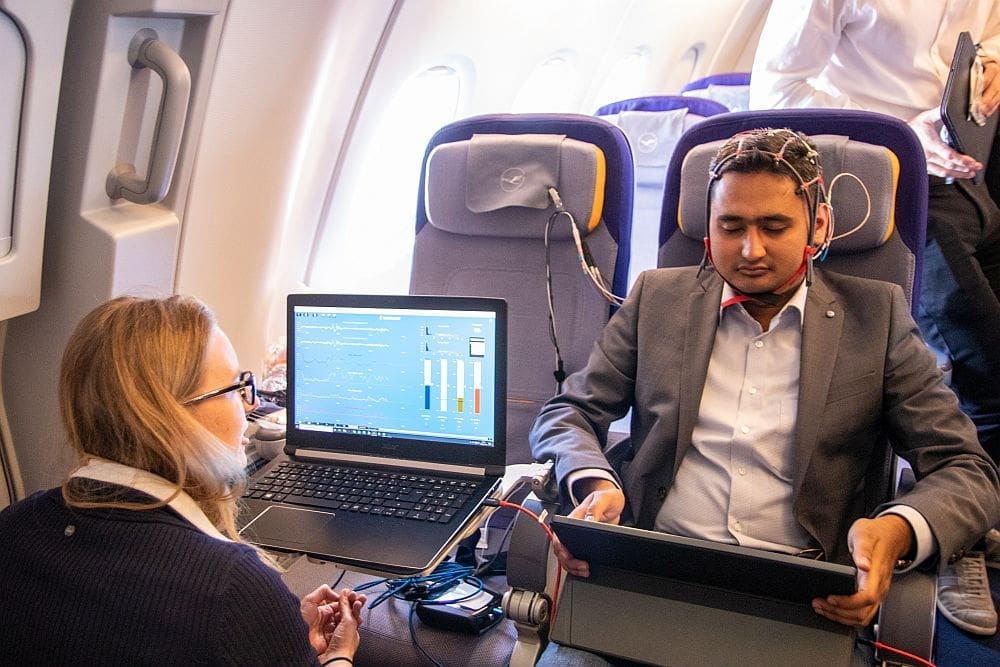 SXSW started out as a pure music festival and has grown into a major digital conference since. FlyingLab covers both areas already at the gate. Early arrival is definitely well worth it! Passengers can take part in a virtual car race with Porsche, test their musical knowledge with Sony and Alexa and listen to a live concert. A four-hour program follows on board, with contributions on future topics from technology and society, a performance by the American singer/songwriter Justin Jesso and a few more surprises.
FlyingLab Exchange, as already mentioned, is not limited to special flights. Therefore, there will be another event in Austin on March 14th, which is part of the official SXSW programme. Organised in cooperation with german.innovation, a colourful mixture of lectures, VR presentations and music is part of the agenda. Both in the air and on the Texan ground we will be there and report in detail!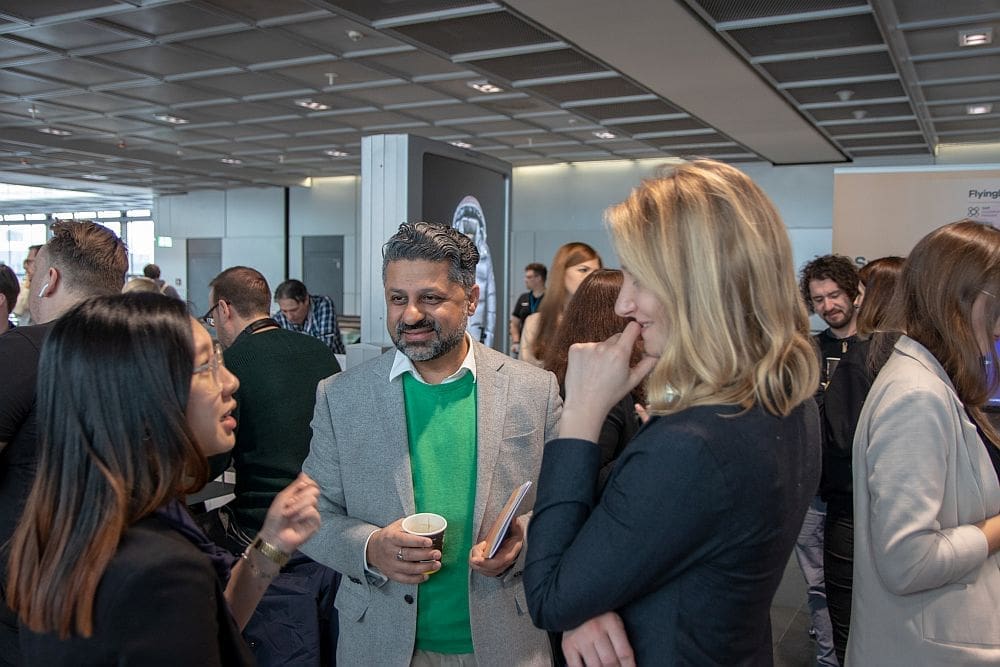 Hamburg Startups supports the German delegation at SXSW
Since 2014, Hamburg Startups has been making sure, that startups can show off their skills at the South by Southwest Festival (SXSW) in Austin, Texas. From 13th to 22nd March 2020, Austin will once again become the hub of the creative and digital world. Traditionally, the German delegation is one of the strongest. Thanks to the support of our partners from Hamburg Invest, Baden-Württemberg International, the Sutor Bank, Vast Forward, german.innovation and Klitschko Ventures, a total of four startups will receive a place in our shared flats, the festival ticket and access to exclusive events. We will report online about the festival in advance and exclusively and focus on the successes and experiences of the German participants.
New joining in Austin is german.innovation, an open collaborative network. It was founded with the aim of strengthening and connecting innovative creatives, founders, companies and scientists. The appearance is made possible by the commitment and financial support of the cities of Hamburg and Munich, the federal states of Baden-Württemberg, Bavaria, Hesse and Rhineland-Palatinate and numerous partners from industry and science.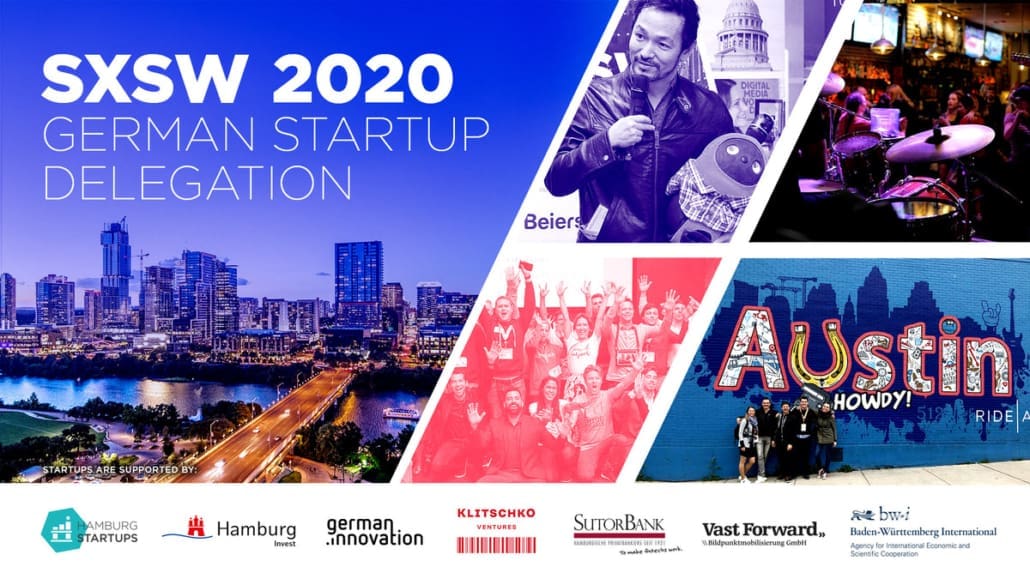 Pictures: Lufthansa FlyingLab