Here's the starting signal for the Reeperbahn Startup Pitch 2019!
Now there is a really good reason to look forward to autumn: On November 7th our Reeperbahn Startup Pitch will happen again! Startups from all over the world are invited to present themselves in the Mojo Club to an expert audience and a top-class jury and can win a trip to the legendary SXSW Festival. And this year there are even two possibilities to reach the final in Hamburg. You can find out how to apply in this report!
The Reeperbahn Startup Pitch enters its seventh round in 2019 and has long since achieved an outstanding position among the German startup competitions. This year, however, some things are a bit different than before. Instead of the usual September date, the event now takes place on November 7th – which makes the otherwise rather gloomy month much more attractive! The venue is also new: For the first time, the founders can prove their pitch talent at the chic Mojo Club.
There are two opportunities to ignite the career turbo
The unique Reeperbahn-flair is thus ensured when numerous investors, decision-makers from large companies, experienced startup people, journalists and many other multipliers from the digital and media industry experience the competition. The inimitable mixture of club atmosphere and concentrated professional competence enables networking in a class of its own. Many long-term and successful business relationships have begun like this. So being there means a lot, but winning is even better. The winners of the last six competitions can confirm this. For Tinnitracks, TripRebel, Antelope, Baqend, Inspirient and Cargonexx, the pitch triumph brought great media attention and a powerful career boost.
The winners can look forward to a trip to the South by Southwest (SXSW) Festival in Austin, Texas, which will captivate the digital and creative world from March 16th to 22nd in 2020. Airfare, accommodation and on-site support are included. We are very happy that the SXSW Festival cooperates with Hamburg Startups and the Reeperbahn Startup Pitch as platinum partners. This partnership also offers an additional opportunity to qualify for the final in Hamburg. The me Convention, which will take place from September 11th to 13th in Frankfurt, is a collaborative event of Mercedes-Benz and South by Southwest. There will be a Reeperbahn Pitch Pre-Event, where the first prize will be a safe starting place for the Reeperbahn Startup Pitch. The jury will be full of important decision makers of the SXSW Festival. So it's already a win to be one of the five finalists.
These are the conditions of participation
And the best thing is: To take part in both competitions, you only have to submit one application! Click here for the application form. Please note the following conditions:
All startups that have launched a new, innovative product on the market between July 1st 2017 and July 1st 2019 are eligible to participate.
All industries are allowed.
There are no restrictions regarding the company headquarters – the whole world is invited!
We need a short description of maximum 500 characters.
A pitch deck of maximum 15 slides is also mandatory.
All application documents must be written in English, the pitch will also be in English.
The closing date for entries is August 25th 2019.
And these are the next steps: After carefully examining all pitch decks, we select the most promising candidates. From September 2nd to 6th, an online voting will determine which five startups will be allowed to attend the me Convention. If it won't work out in Frankfurt, the second chance will come on September 27th. Then the expert advisory board will meet and select four more finalists for November 7th. Any travel and accommodation costs for both events will be borne by the participants.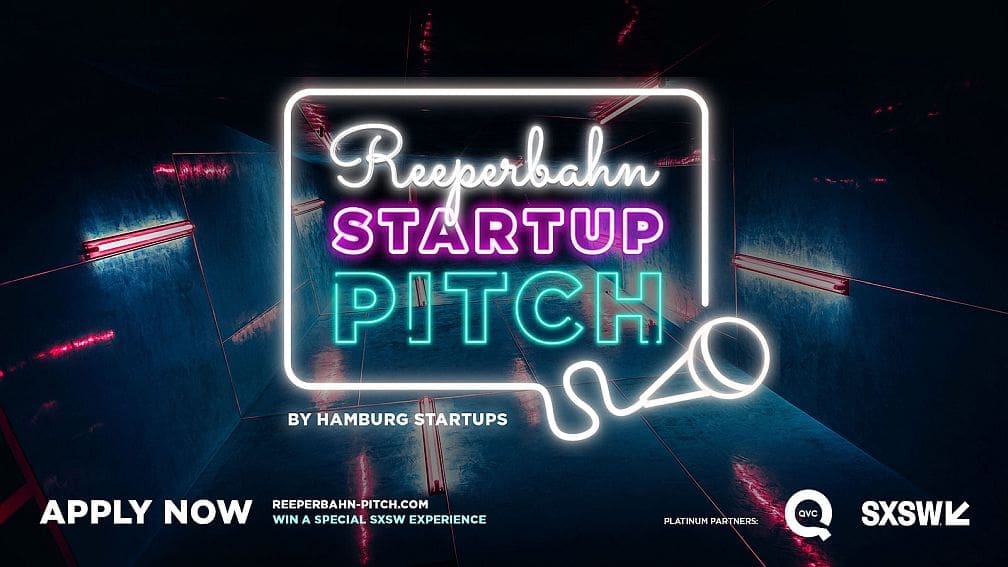 On the day of the final there will be another 16 startups on stage, divided into four thematic blocks. You can expect an interested audience and constructive feedback from expert juries. If you want to take part there, you can also register via our application form. The supporting programme also includes master classes and workshops that appeal to startups, family businesses and investors alike. As an final highlight of the eventful day, the finalists can expect exquisite food and discussion partners at an exclusive dinner, while the official after-show party will take place in the Mojo Club.
More information about the Reeperbahn Startup Pitch can be found here on our new website. It will be updated constantly, so it's worth checking back regularly. Now let's get on with the application. We wish you good luck and success!
This post is also available in: German
https://en.hamburg-startups.net/wp-content/uploads/2019/07/Logo-Reeperbahn-Pitch_Beitragsbild.jpg
400
600
Mathias Jäger
http://www.hamburg-startups.net/wp-content/uploads/2013/12/hs-logo2_340.png
Mathias Jäger
2019-07-25 08:30:52
2019-07-25 09:30:42
Here's the starting signal for the Reeperbahn Startup Pitch 2019!