What is Cyclique- startup review
Cyclique is web app for biking aficionados looking to go for a bike ride with other bikers.
What are the products?
The website is primarily an app. You just need to sign up and create your account in a few clicks and you are set to go! Pick your biking style: city, fitness, mountain bike, etc. This will help you get relevant biking tours that match your liking.
Out of the suggested tours, join whichever ones you want and meet the other cyclists at the meeting point at the right date and time. If you could not find anything appealing to you, you also have the possibility to create your own tour! Likewise, you need to determine a date and time, a meeting point and the type of tour you are going for – what kind of terrain, the distance, the average speed and the estimated difficulty.
John's opinion
Right after creating my account, I was already suggested a tour that started in 30 minutes nearby! It's really easy to find and join a bike group. I like the idea that biking, usually seen as a lonely sport, can be social and used to meet new people. I'm not yet sure if it's appropriate to chat during the bike tour. I would imagine it to be welcome for a low-paced forest stroll or if you promenade along the Elbe with regular breaks. When it comes to hardcore speedy cyclists, I am not quite sure how doable that would be. I will have to reach this level of biking to find out. And most likely buy a bike of my own (I rent the city bikes of Hamburg!)
Any jobs?
No jobs listed yet, but surely it's only matter of time until it happens!
Contact details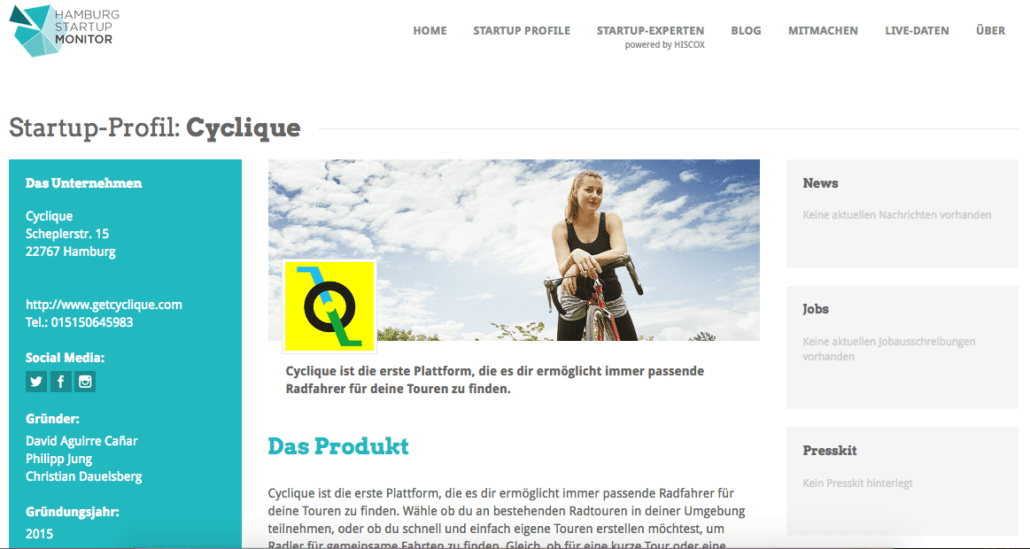 Are you looking for more information about this startup? Check our startup monitor!
"Pardon my French" is a column about startups by John Barré. It is a personal opinion about ideas and concepts. Whether the business model is  tangible, the layout of the website enticing, or the user journey a pleasant path, all of these (and much more!) are scrutinized and summed up according to John's viewpoint.