Friendsfactory opens an office in Hamburg
Munich's star office workspace rental Friendsfactory is spreading throughout Germany and has just opened an office in Hamburg. After seeding their business locations in several parts of Munich (City, Altstadt, Schwabing), Friendsfactory decided to leap into HafenCity, Hamburg's upbeat area next to the recently inaugurated elbphilharmonie opera house.
If you walk down the ever windy Sandtorkai, in Hafencity, and look up, you may notice a large flag hanging across one of the buildings on the West side. The cheeky skull on it is an invitation to discover the brand new offices of Friendsfactory. After a grand opening on February 1st 2017, the Munich-founded company is ready to welcome its first members. Is there enough space for everyone? You will find 40 offices and 10 open space areas at Friendsfactory. A large selection, but there are good chances the place will be sold out before long. Friendsfactory is the only coworking location in the area. Rather astonishing it took so long for someone to grab the opportunity: with so many companies and startups in the district, FF is a godsend for all the contractors and other service providers who are likely to work with them. It looks like FF got itself a golde goose.
Prices & co
No price per square meter at Friendsfactory. The rent depends on the size of the office of course, but also its location. A view over the canal is a tad pricier than one over the street. Regardless how many you are, you can rent a small office of 10 m² for €299 to a 65 m² office for over €2.000. Whatever fits your needs best, the choice is yours! The fees include a 24/7 access to the building and your office, a letter box, an Internet connection, phone and conference rooms. New comers will be charged a one-time subscription fee of €199 for the administrative tasks, such as adding the name of your company to the relevant places.
Jenny Sommer, who is responsible for marketing and sales, stresses the importance of being a community. "It's not a coworking space. We cater for a community without any hidden costs. You only need to rent what you need and flexibility is key." Friendsfactory boasts a 1.800-member community of various experts. A team of individuals who support each other to maximise the potential of their respective businesses.
For more information about the various spaces, check their website.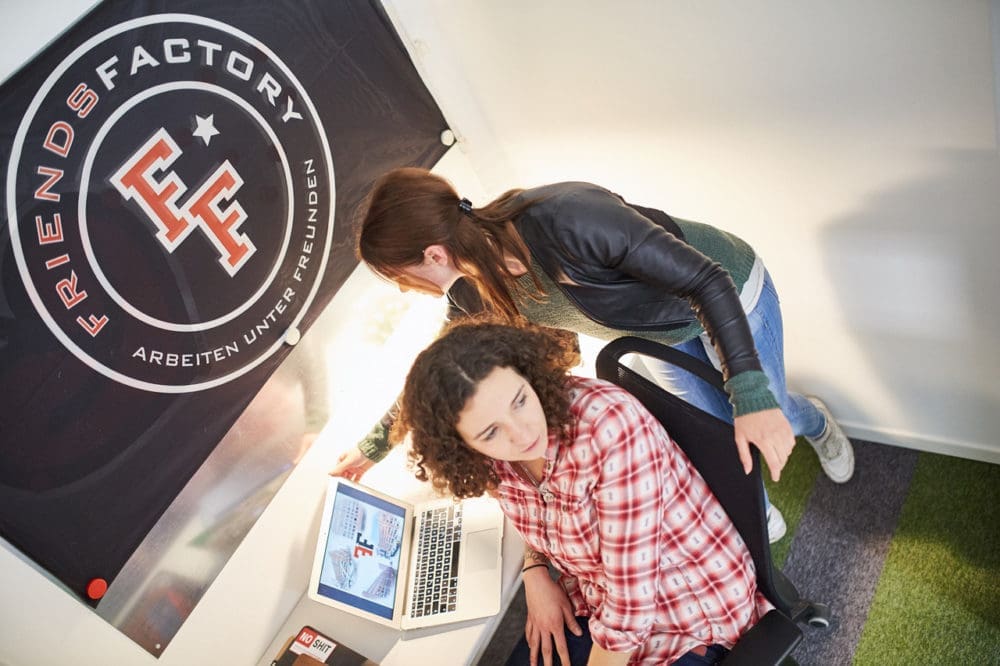 Contact details
Address: Sandtorkai 37, 20457 Hamburg
Phone: 0800 – 22 77 888
Mail: Jenny Sommer