What is hellomonday – startup review
Hellomonday is an online service for companies and freelancers to help them find the perfect office in Hamburg.
What are the products?
Essentially, hellomonday is a simple service provider. You need an office in Hamburg, they know about offices. You can get personal advice via chat or phone if you need some more advanced information, however the website in itself has plenty of tips and information to offer. Simply select the area you are interested in, your budget for the rent and you are as good as done! The navigation is very nicely done, with a large amount of pictures and maps to help you locate your potential future HQ.
Should you be a tad bit picky and have particular requirements for your office, there are a lot more filters to choose from in order to refine your search query. And so, you can choose to display only results with a lift or a canteen within the building. Or you can ask for a loft, or an office with view. You are spoiled for choice!
John's opinion
Technically, the website is optimal. It's clear, bright, fantastically illustrated. There is absolutely nothing negative to say about it. The offer available is also rather large for such a young start-up. It most certainly feels like the project has a lot of potential and it is easily scalable to other big German cities, provided that the business model is successful with Hamburg.
The service provided is very efficient and, most importantly, convincing. If I were looking for an office, I doubt I would try any other website after visiting hellomonday. It is just too convenient to move away from!
Any jobs at hellomonday?
No jobs yet.
Contact details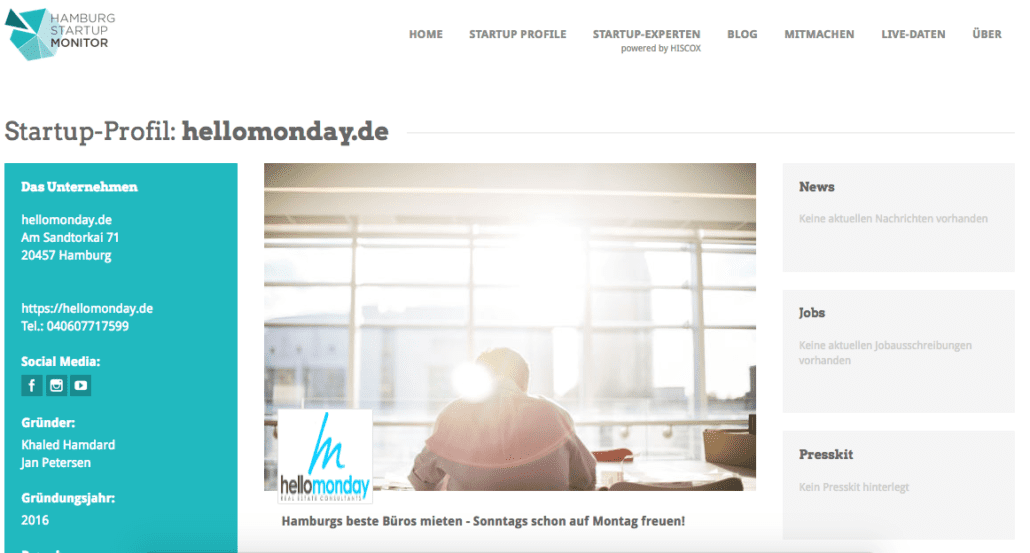 Are you looking for more information about this startup? Check our
startup monitor
!
"Pardon my French" is a column about startups by John Barré. It is a personal opinion about ideas and concepts. Whether the business model is  tangible, the layout of the website enticing, or the user journey a pleasant path, all of these (and much more!) are scrutinized and summed up according to John's viewpoint.