What is Saltwater Shop – startup review
Saltwater Shop is an online store for all the products revolving around the world of surfing and seaside sports.
What are the products?
The products are essentially clothes, for men, for women, and for kids. You can get your wardrobe sorted there even if it's empty! Shoes, bags, shirts, swimsuits, and the whole lot.
You will also find surfboards, skates, sunglasses and accessories for all your travelling. A few worth mentioning items: the foldable spade, the mini comb made of bamboo (real cute) and the map of the most famous surfing areas.
Least expected though: there is an art and media section. You can buy music for surfing, books about surfs, fiction dealing with surfing,…
John's opinion
It's a bit like a Quicksilver shop of the seven seas. Although it does include skating on top of surfing and a bit of yoga. It's a nice shop if you're the target group (I'm not, so it's a bit difficult for me to feel overly excited about it). Delivery is free if you spend a certain amount and you should get your parcel within six days.
The shop supports the Surfrider Foundation. This is something I really like about this store (and of course the "Moin Moin" in the top left corner – Hello  as they say it in Northern Germany.) The foundation strives to keep oceans clean and natural. They also fight against pollution in the waters, mostly plastics but not only. Google "Eighth Continent" for more information and a slap of reality check. It's fantastic to see what a small start-up can do. It might be a small contribution, but it still is one. If big concerns made a similar effort with the means they have, the oceans would already be clean.
Any jobs at Saltwater Shop?
I could not see any job offers.
Contact details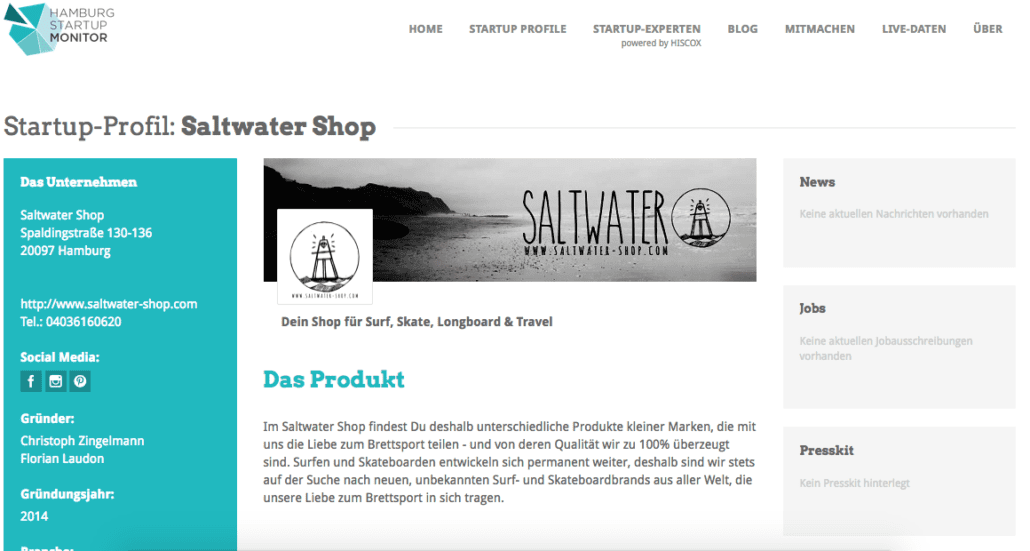 Are you looking for more information about this startup? Check our startup monitor!
"Pardon my French" is a column about startups by John Barré. It is a personal opinion about ideas and concepts. Whether the business model is  tangible, the layout of the website enticing, or the user journey a pleasant path, all of these (and much more!) are scrutinized and summed up according to John's viewpoint.