What is Haselherz – startup review
Haselherz is a hazelnut spread, made of great ingredients for a vegan and organic result.
What are the products?
The products are very clear: hazelnut spread. And we all know there's a giant tycoon out there, that has an almost monopoly on spread and will be hard to compete with. An audacious challenge? Ebru Erkunt is not afraid and proudly presents her own three recipes: Kulau Nut, Sweet Nut, and Love Nut. Kulau Nut is a mix of hazelnuts and a hint of coco. Süße Nuss (sweet nut) is a mix of grapes and nuts. Liebe Nüße is also a mix of these, with a bigger quantity of nuts. You can order online for a national or international delivery. If you're lucky enough to live in Germany, you can find Haselherz in many organic supermarkets.
John's opinion
The brand image is very strong: a female entrepreneur with Turkish background launching her own hazelnut spread. It could be a movie scenario! I felt compelled to try out Haselherz the moment I started browsing the website. I really like the fact there is no palm oil in the products Haselherz offers. It's a very decried health issue these days and it's fantastic to have an alternative without anything that may harm your body or your kids'. The packaging is very nice (made of glass, no plastic!) and efficient. The design of the mascot (a squirrel since Haselherz means heart of hazelnut) is cute yet neither lurid nor corny. Full score!
Any jobs at Haselherz?
Nothing yet, but stay tuned!
Contact details
Are you looking for more information about this startup? Check our startup monitor!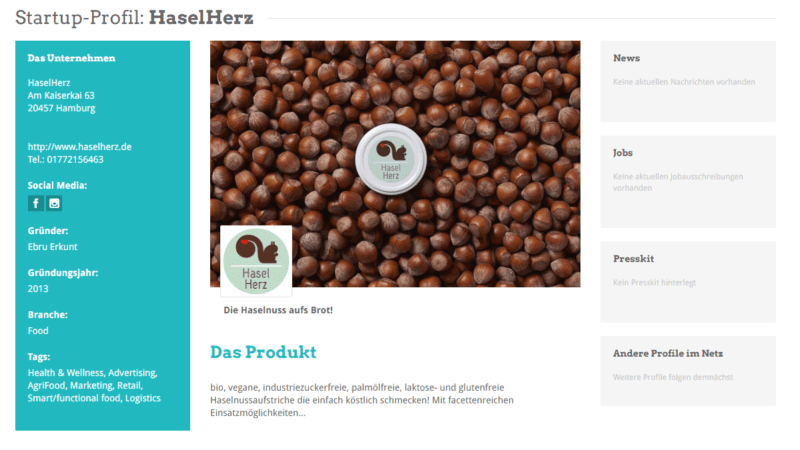 "Pardon my French" is a column about startups by John Barré. It is a personal opinion about ideas and concepts. Whether the business model is tangible, the layout of the website enticing, or the user journey a pleasant path, all of these (and much more!) are scrutinized and summed up according to John's viewpoint.
https://en.hamburg-startups.net/wp-content/uploads/2016/12/Haselherz0388-e1481204459459.jpg
534
800
John Barré
http://www.hamburg-startups.net/wp-content/uploads/2013/12/hs-logo2_340.png
John Barré
2016-12-13 18:54:48
2017-03-14 22:33:16
What is Haselherz – startup review