#CouchbyCouchwest – the sofa conference continues!
#CouchbyCouchwest goes to the next round. This time, the Digital Media Women, the singer Sofia Portanet, the Digital Hub Logistics and serial founder Dirk Lueth will have their say at the sofa conference, which was created in cooperation between german.innovation and the City of Hamburg.
Female power with the Digital Media Women
Where are the women around here? Unfortunately, this question is still being asked, especially in the tech world, whether at conferences or in companies. But in recent years, a lot has changed for the better. One initiative that ensures greater visibility and presence of women in the scene is Digital Media Women. Sanja Stankovic tells how it all began and Maren Marchenko explains the current campaign #30mit30.
Sofia Portanet: music in times of corona
Even though our coverage of SXSW focuses on the interactive part, the event has become famous mainly as a music festival. The cancellation therefore hits many musicians hard, who were hoping for their breakthrough there. Among them are the singer Sofia Portanet and her band. At #CouchbyCouchwest they talk about how things could go on now. (Note: When the interview was recorded, smaller concerts were still legally possible – that's how quickly things change!)
What logistics experts and virologists have in common
Logistics plays a major role in the port city of Hamburg. So it is no wonder that the nationwide Digital Hub Initiative has opened a Digital Hub Logistics in the Hanseatic City. Managing Director there is Johannes Berg. He brought Dustin from the Startup ConnexBird to the sofa talk. He explains that there are parallels between what he does and the detection of the corona virus.
Dirk Lueth: become storytellers!
Any German startup that wants to gain a foothold in the USA has an important partner in the German Accelerator. One of the mentors there is Dirk Lueth, who himself has made it as an entrepreneur in Silicon Valley. In an interview he reveals some of the secrets of his success. For example, that a gripping story is much more convincing than a pitch deck full of sober numbers.
More interviews from the series #CouchbyCouchwest can be found here, here and here.
Disclaimer
Since 2014, we at Hamburg Startups have been making sure that startups can show that they hav it at SXSW. From March 13th to 22nd, Austin was once again supposed to become the hub of the creative and digital world. Traditionally, the German delegation is one of the strongest. Thanks to the support of our partners from Hamburg Invest, Baden-Württemberg International, Sutor Bank, Vast Forward, german.innovation and Klitschko Ventures, startups received comprehensive support. We reported in advance and planned to do this on location.
New in Austin would have been the first appearance of german.innovation, an open collaborative network. It was created with the aim of strengthening and connecting innovative creatives, founders, companies and scientists. The presence was made possible by the commitment and financial support of the cities of Hamburg and Munich, the federal states of Baden-Württemberg, Bavaria, Hesse and Rhineland-Palatinate, and numerous partners from industry and science.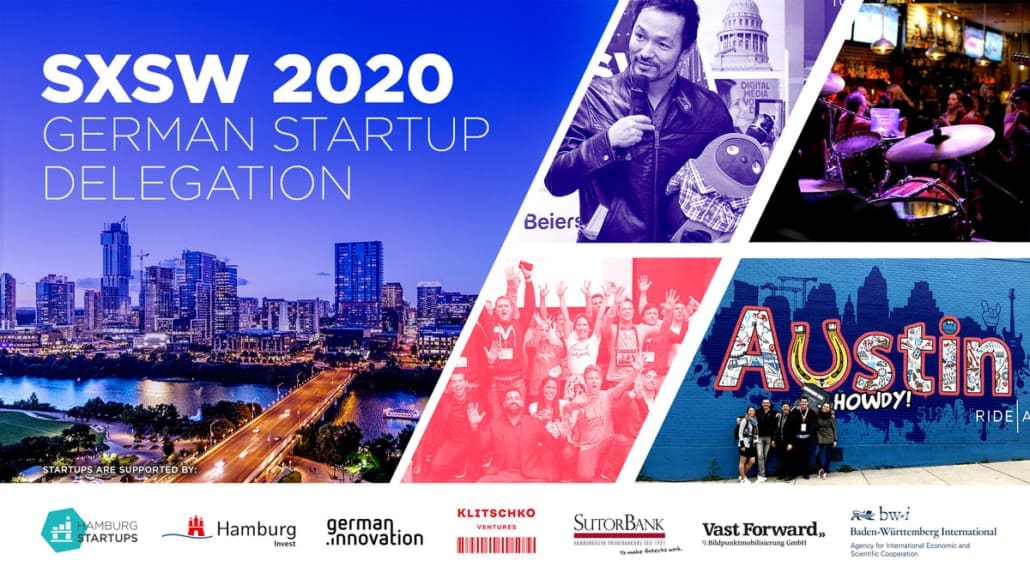 https://en.hamburg-startups.net/wp-content/uploads/2020/03/cxcw-Beitrag-4.jpg
400
600
Mathias Jäger
http://www.hamburg-startups.net/wp-content/uploads/2013/12/hs-logo2_340.png
Mathias Jäger
2020-03-24 15:24:28
2020-03-24 15:24:29
#CouchbyCouchwest – the sofa conference continues!